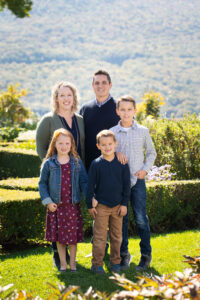 Tim Counts served as a pastor in Washington state and New Mexico before coming to Northshire Baptist. Pastor Tim is thankful for his time at The Master's Seminary, where he received his M.Div. He is passionate about preaching God's Word expositorily, verse by verse, because He knows that the Holy Spirit uses the inspired Word of God to bring salvation and growth in Christ-likeness. Pastor Tim loves to see the power of the gospel at work as people come to know Christ as their Savior and Lord, and as believers grow in their understanding of how the gospel affects their daily lives.
He longs to see the gospel advanced in New England and serves on the Board of Directors for the Baptist Convention of New England, and the Leadership Team for Small Town Summits (a ministry affiliated with The Gospel Coalition New England). Tim also enjoys encouraging church planter friends. He blogs regularly at "He Must Become Greater."  His writing has been featured at ministries such as Desiring God, The Gospel Coalition, 9Marks, For the Church, Challies, The Family Research Council, The Cripplegate, and newspapers throughout Vermont. Pastor Tim is also a contributor to HomeLife magazine, a devotional book, and a devotional magazine. Tim has been married to his best friend Melanie since 2003.  They have 3 children.
Meet our Pastoral Assistant
Andrew Crichton is a New England native, born in Rhode Island. In 2021, he graduated with his M.Div from The Southern Baptist Theological Seminary in Louisville, KY and returned to complete a year-long pastoral internship in East Providence, RI at Godspeed Church.
At Northshire, Andrew leads the Youth Group. Through various studies, Andrew wants to give our teens the tools and knowledge needed from their Bibles to mature in their walk with Christ, to share the Gospel with their friends confidently, and to hold onto their faith after they graduate from high school. Andrew also provides oversight to various ministry teams and supports Tim with administrative tasks for the church.
He enjoys coffee shops, board games, hiking, and learning how to ski.