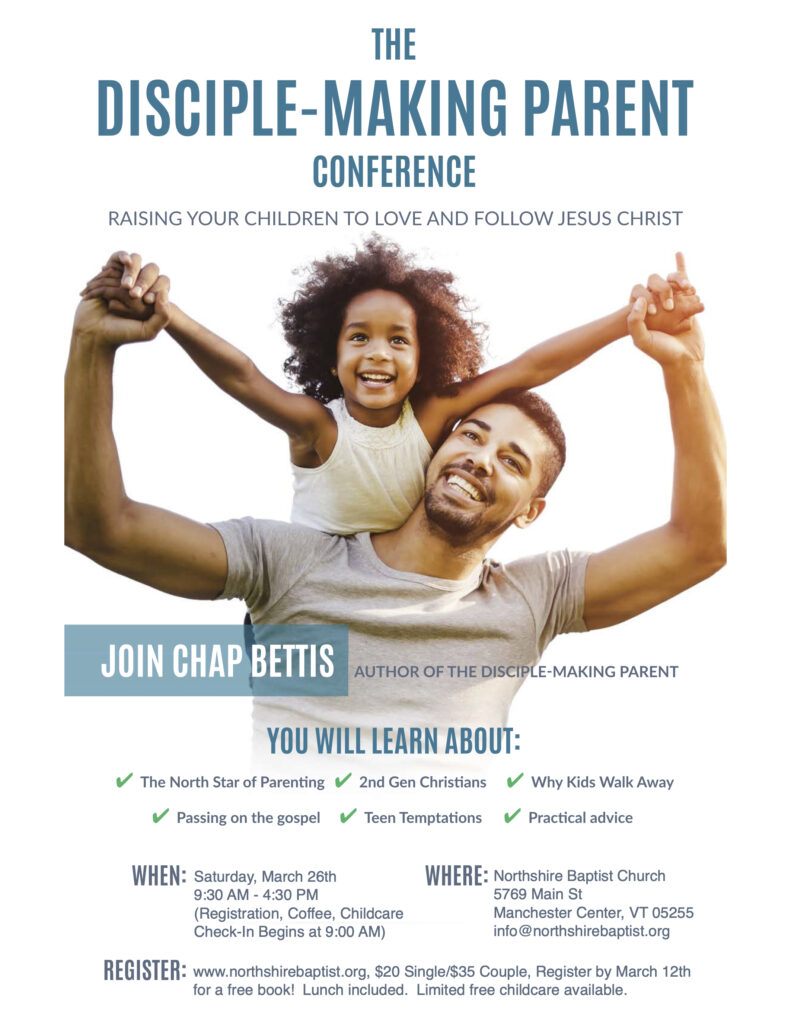 Register here today: https://www.eventbrite.com/e/the-disciple-making-parent-regional-conference-tickets-240676398587
"Early Bird" Registration by March 12th includes a free book–Chap Bettis's "The Disciple-Making Parent"! 
Register for free childcare when registering for parents ticket(s). Space is limited and children must be registered to ensure a spot!
With breaks for coffee, snacks, and lunch, parents will learn about:
Session 1 – Where We Are Now and Why They Walk Away– In this first session we look at the precious gift God has given us, the dangers awaiting them, and the call of God upon us to pass the gospel baton. We also look at some reasons that children don't keep following the Lord.
God's Most Effective Shepherd – For the second part of this session, we look at God's calling on parents as the primary disciplers of their children.
Session 2 – Commitments 1 and 2 of Disciple-Making Parents – In this session, we start our journey through 2 Timothy 3:14-15, looking at the process 2nd gen Christians go through and how the most important commitment has to do with our "North Star." We also look at the power of the local church.
Session 3 – Model and Love. In this session, we talk about two of the most important qualities of our discipleship – modeling a living faith and making our home a loving place. We will talk about home as a place of sanctification and how to emotionally connect with our children.
Session 4 – Teach, Serve, and Pray. In this session, we talk about our commitment to teach the gospel and the Bible and how to do that. We will give particular attention to making suggestions for family devotions and speaking the gospel to your children.
Session 5 – Issues Teens Face. In this session, we take a look at some special issues that teens face. We will also quickly cover some thoughts on doubts and the media, and close with some Q&A.